Coredy R650 2-in-1 Robotic Sweep Vacuum(Renewed)
Our post-sales service

1-Year Limited Warranty

Covers non-consumable parts and labor for 1 year from the date of purchase.

30-Day Money Back Guarantee

Return your robot within 30 days for a full refund.

Lifetime Technical Support

Coredy Support Team is available via email & phone call: +1-800-999-8470 /+44-808-134-9909
What should I expect to receive with my Renewed purchase and in what condition?
All Renewed purchases will come with accessories that would be original as well as fully functional. Coredy Renewed products will be packaged in either original packaging or in a new and clean cardboard box. The renewed products will be clean and slight scratched on the top or side .  When present, batteries have a capacity that exceeds 80% of the new equivalent.
What if the product does not look or work as expected?
We want you to be delighted with your purchase. If the product does not look or work as expected, you are eligible for a replacement or refund within 90 days of receipt with the Coredy Renewed guarantee. We can also help you troubleshoot technical problems and assist with returns. Call our toll free number or support@coredytech.com.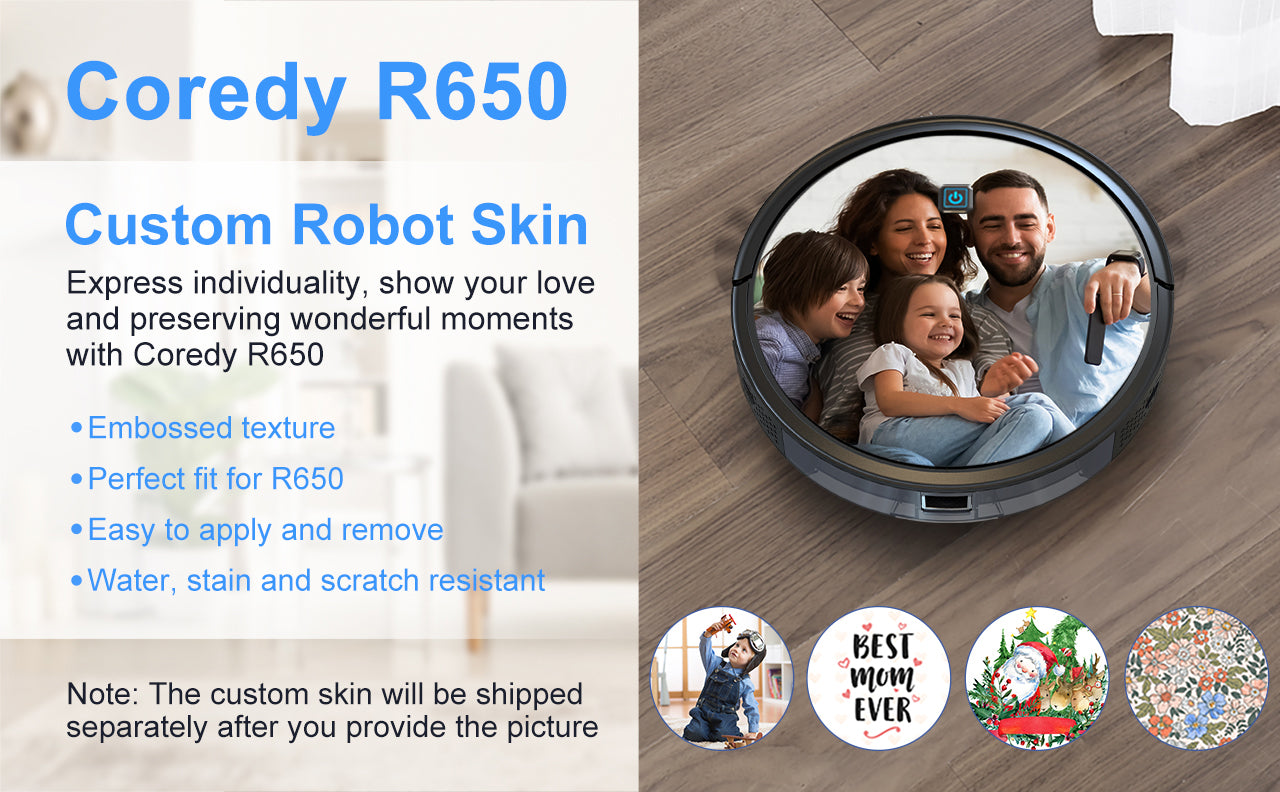 Kiss Goodbye to Daily Sweep and Vacuum
R650 2500pa Robot Vacuum Cleaner
Coredy R650 robot vacuum cleaner is specifically designed for hairs, pet fur and allergies. The upgraded rolling brush dramatically reduce the pet hair tangles. Equipped with Extra Strong Suction & washable HEPA Filters, R650 robots significantly reduce allergens and lower your of risk getting ill during flu season. With sleek tempered-glass cover and thin 7.2-centimetre build, R650 works wonders accessing every area where dirt and dust hide.
R650 is perfect for:
Home with shedding pets
Home with crawling baby
People who suffer from allergy
Surprise gift for working 
parents or elders
7/24 Technical Support Team
Coredy robotic vacuum cleaners are provided friendly technical supports, easy-to-reach toll call technical support. Anytime if you have any concerns during using Coredy robot vacuum cleaners, our supporting team staff will be always online, offer the fastest solution.
Boost-Intellect Technology
Automatically increase suction power to lift cleaning head and two large wheels when carpet is detected, moves seamleesly from hard floor to carpets to get the mess.
Out of Bounds for Vacuum Robot
Form an effective barrier to let the robot only clean a certain area or room as you need.
Washable HEPA Filter
Upgraded washable HEPA filter plus pre-set filter and sponge filter effectively trap dust and reduce the amount released back into the air to achieve a spotless home, 180°easy-access dustbin for quickly mess-free emptying.
Super Quiet
Streamlined air flue reduces noise level under 65dB, leaving a quiet space for your family to read books, watch TV, chat with each other or take a nap.
Cleans All Floor Types
5 selective cleaning mode can fully vac all floor types, the new upgrade planting/rubber rolling brush can pick up more pet hair without tangling, ideal for homes with pets.
Smart Sensor Protection
Equipped with IR sensors, anti-drop technology prevent the robot from falling, highly sensitive anti-collision technology for evading obstacles.
Ultra Slim
2.77 inch low-profile design allows the robot gliding under and around bed, sofa and other hard-to-reach areas to get the mess.
Auto Self-Recharge
The robot vacuum automatically returns to charging base to recharge when in low power, ensuring it's always charged and ready to clean.
Note: You can customize your own R650 skin here. 
What's in the Box:
1-Year Warranty, toll call technical support.
1x R650 robotic vacuum cleaner ,
2x 6.6ft magnetic boundary strips,
4x side brushes,
1x extra HEPA filter,
1x remote control (2 AAA batteries included),
1x charging dock,
1x AC power adapter,
1x brush to clean out dustbin and other parts,
1x setup guide and owners' manual.