Coredy Lidar Robot Vacuum and Mop Combo, Laser Navigation with Ultra-Strong Suction
Our post-sales service

1-Year Limited Warranty

Covers non-consumable parts and labor for 1 year from the date of purchase.

30-Day Money Back Guarantee

Return your robot within 30 days for a full refund.

Lifetime Technical Support

Coredy Support Team is available via email & phone call: +1-800-999-8470 /+44-808-134-9909
Upgraded Laser Detection: Coredy robot vacuum cleaner has up to 8 meters of advanced laser detection range to swiftly map your home's complex environment 360°, delivering a more purposeful and precise row-by-row cleaning path without deviation for fuller cleaning coverage and an efficient cleaning experience.
Efficient Vacuum and Mop: With the intelligent navigation of the robotic vacuums and mop will vacuum the mess more thoroughly in an efficient Zig-Zag cleaning route and 4 suction modes choice available. The Max suction mode (Turbo Boost) for efficient deep cleaning. The Y-shaped mopping path mimics artificial kneeling cleaning, repeated wiping back and forth for deep mopping.
Intelligent Mopping System: The Lidar has a High, Medium and Low water flow system, based on the different degrees of dryness of the floor, adjust to the right amount of water level to control the mopping humidity and without spillage, making the floor sparkling.
Multi-Floor Maps Saving: LiDAR navigation creates accurate maps and the robot vacuum can save up to 5 maps. Manually select has been saved maps when shifting to a different floor to quickly make environmental detection changes for fast cleaning.
Customized Cleaning of Room: Set different suction power/water volume and cleaning times for each room/area in the Coredy Robot App. Swiftly transform the set cleaning mode when moving from room A to room B and more, thus achieving intelligent cleaning.
Handle Medium Homes Easily: Up to 1300 sqft of cleaning on a single charge. The large dust bin (600ml) means less emptying. When the battery is low, it will return to the charging base to recharge and resume cleaning from the break point, never missing a spot in the house.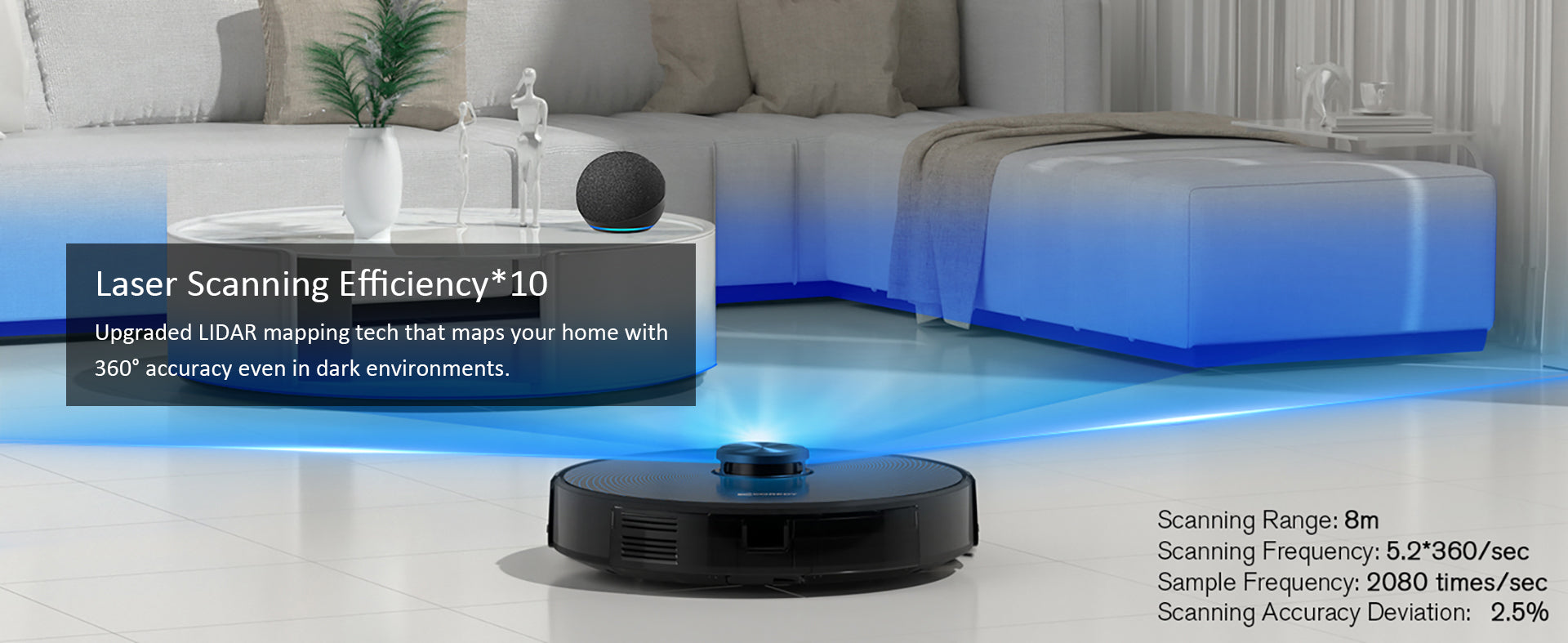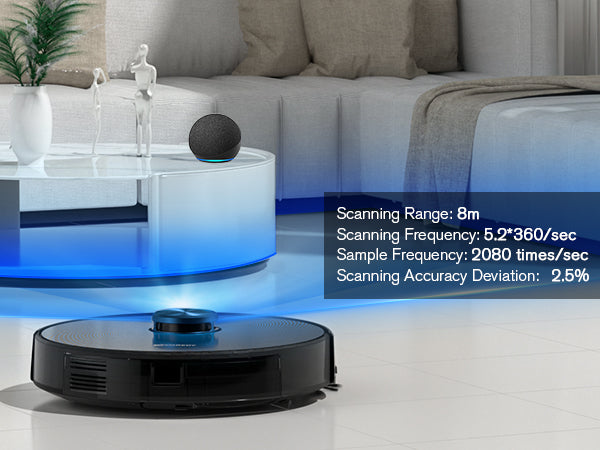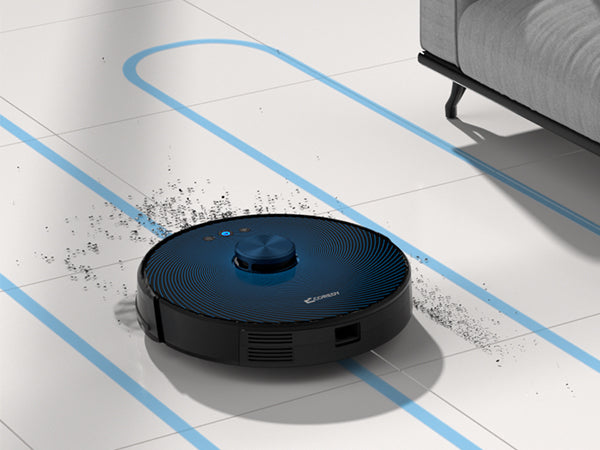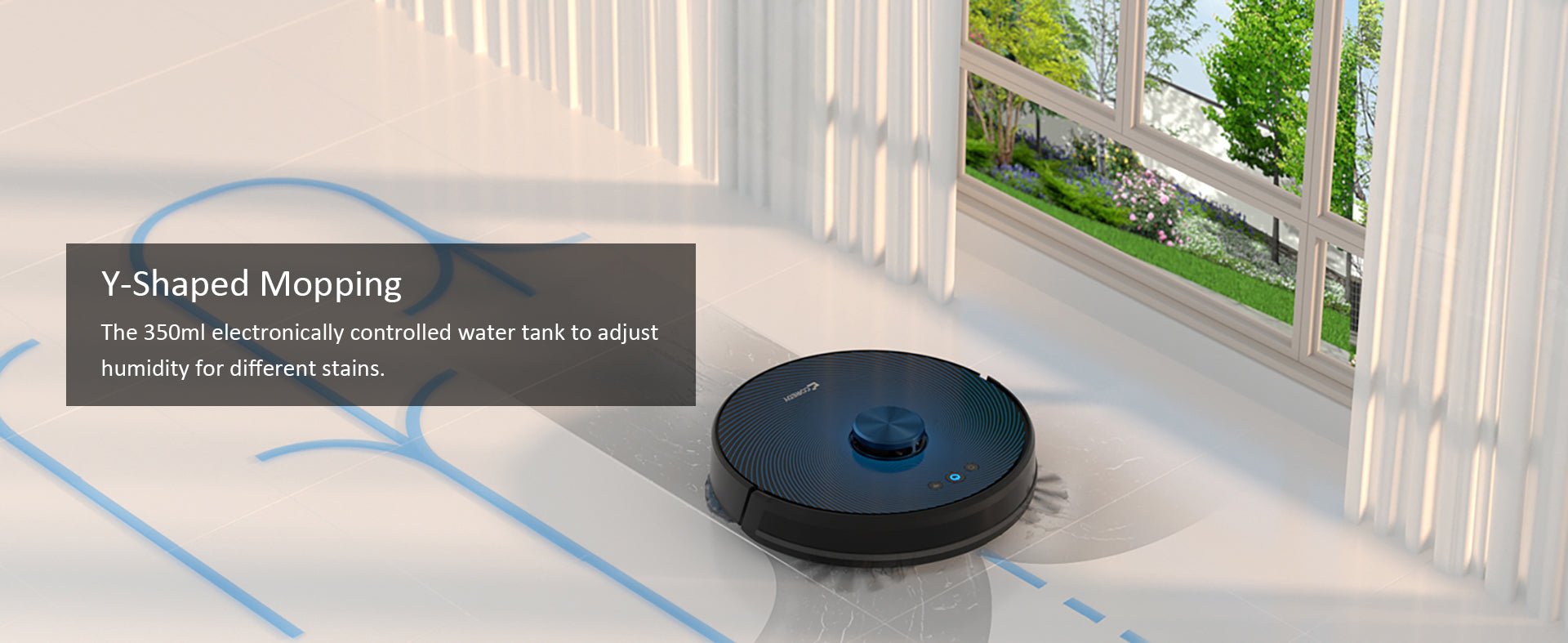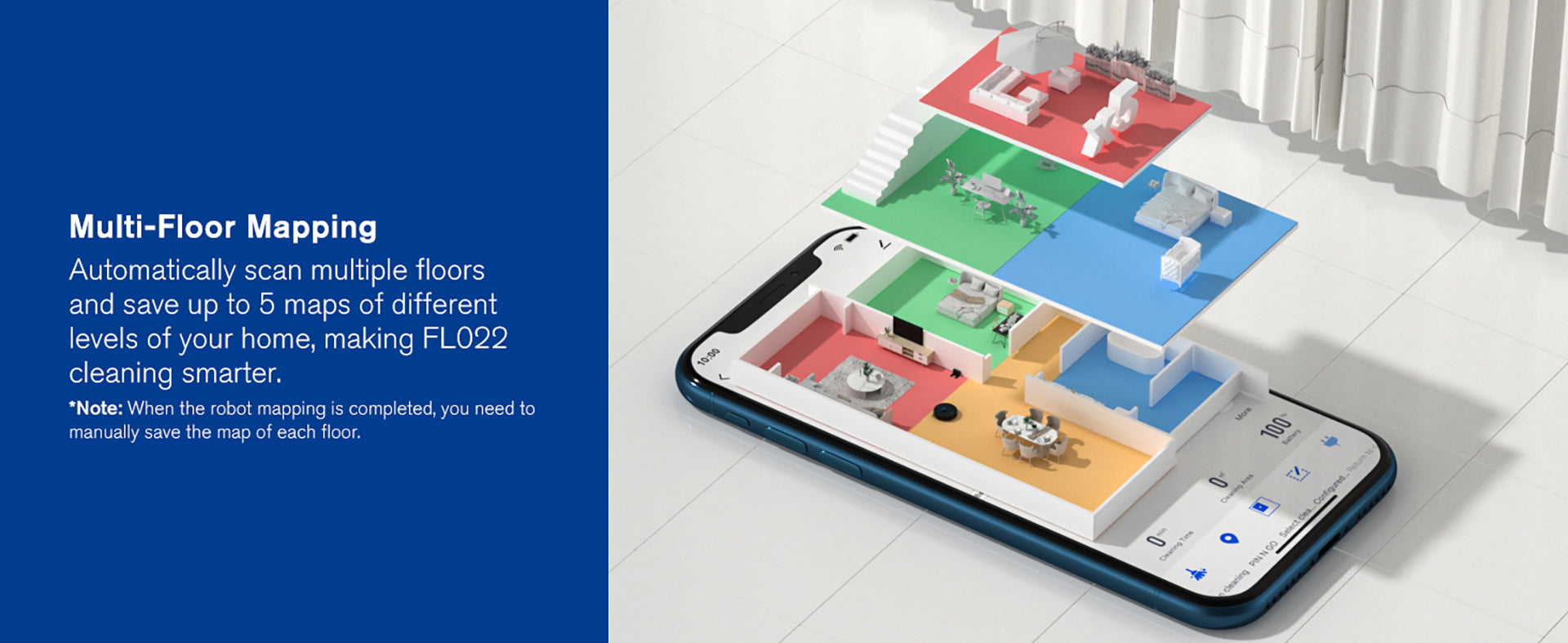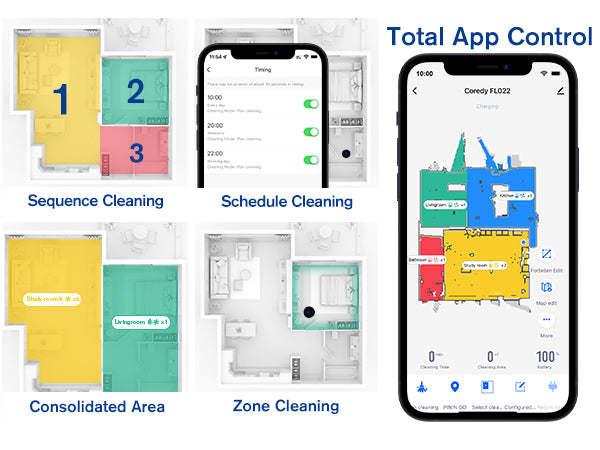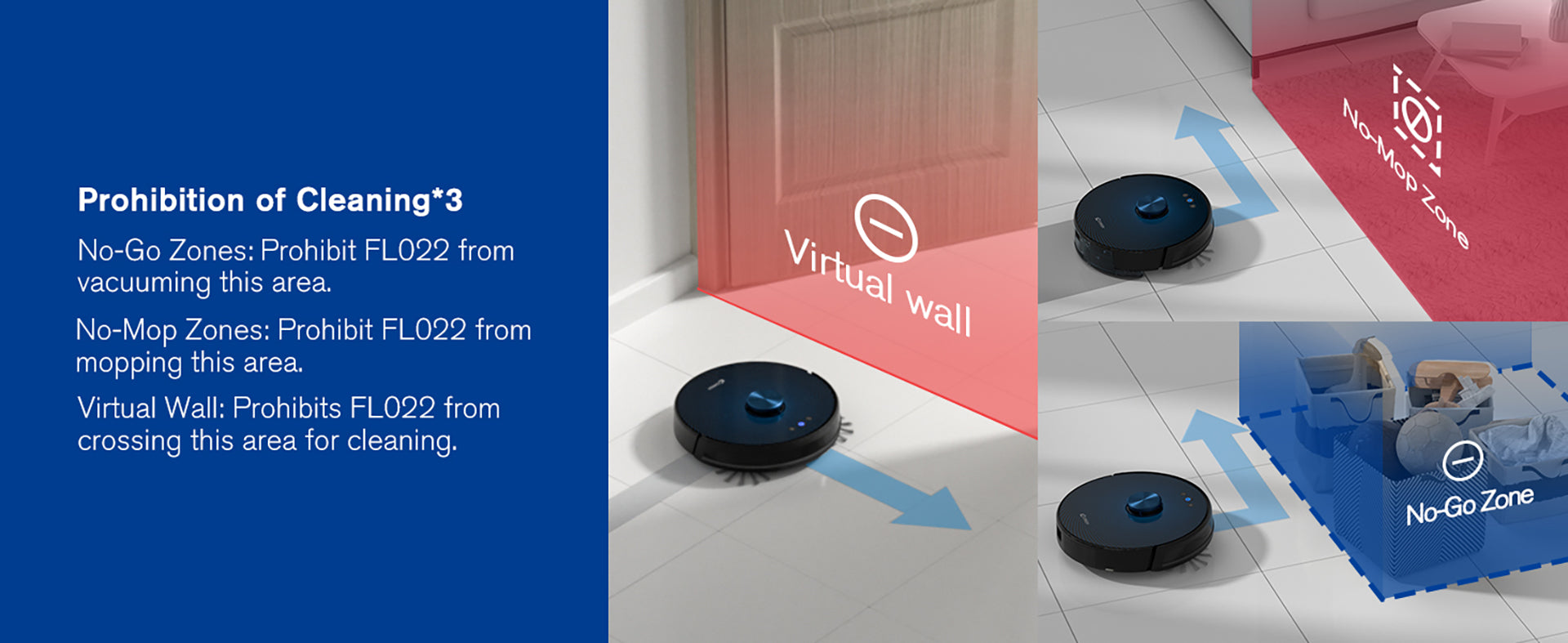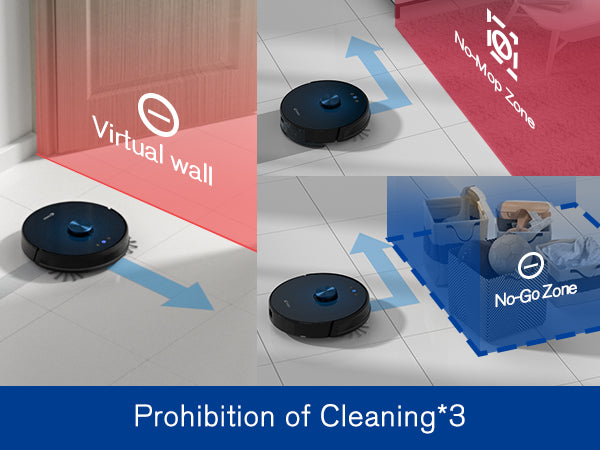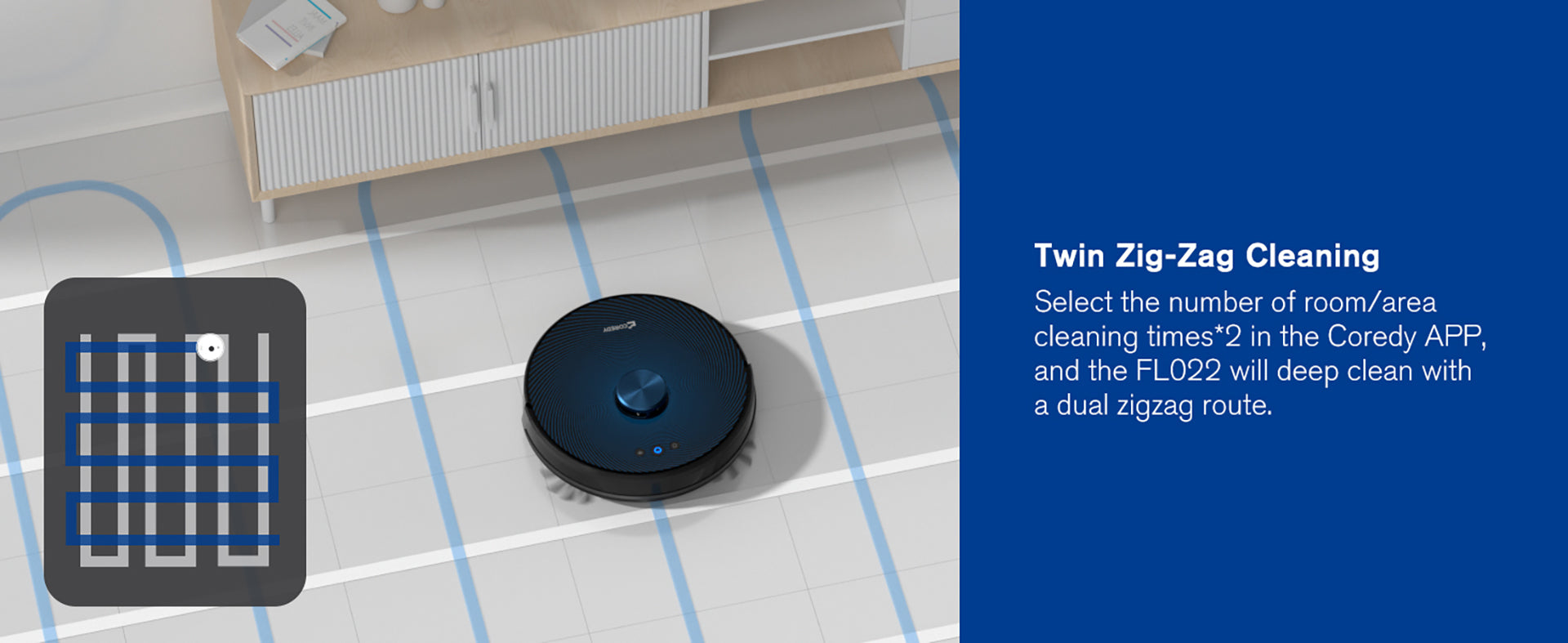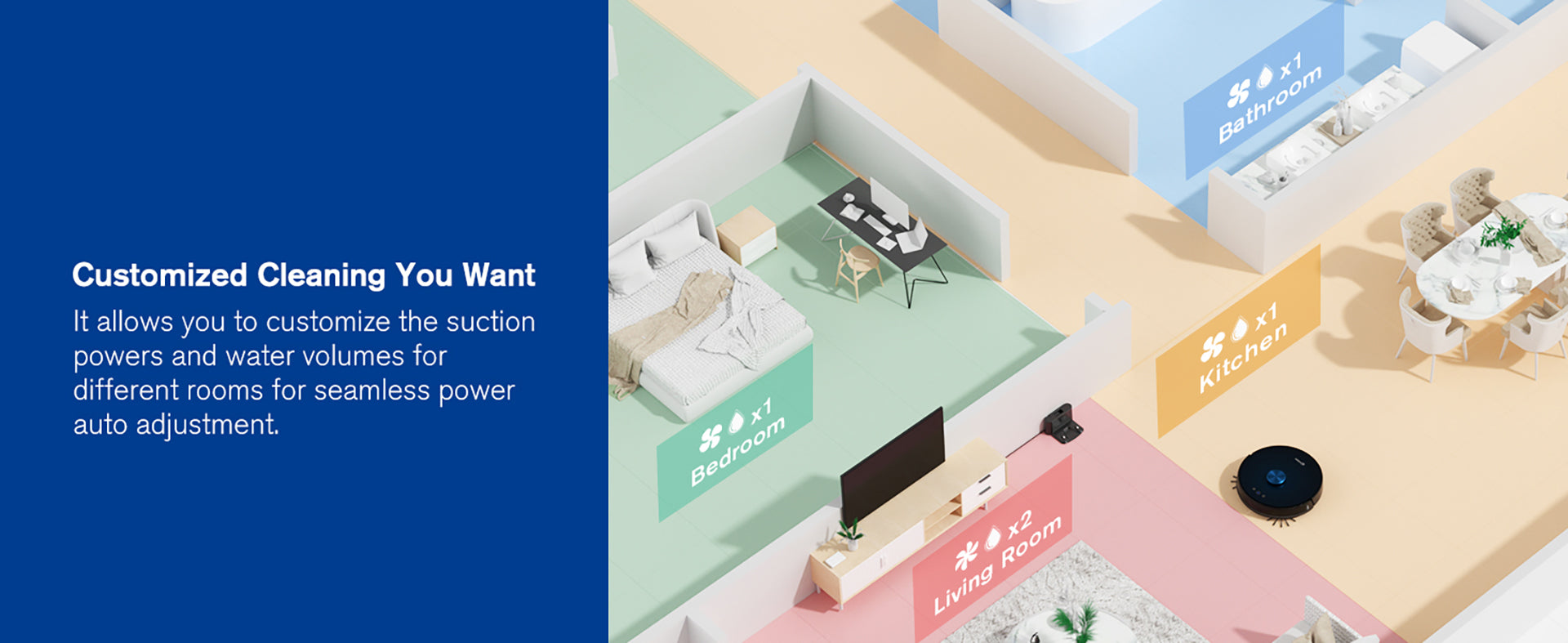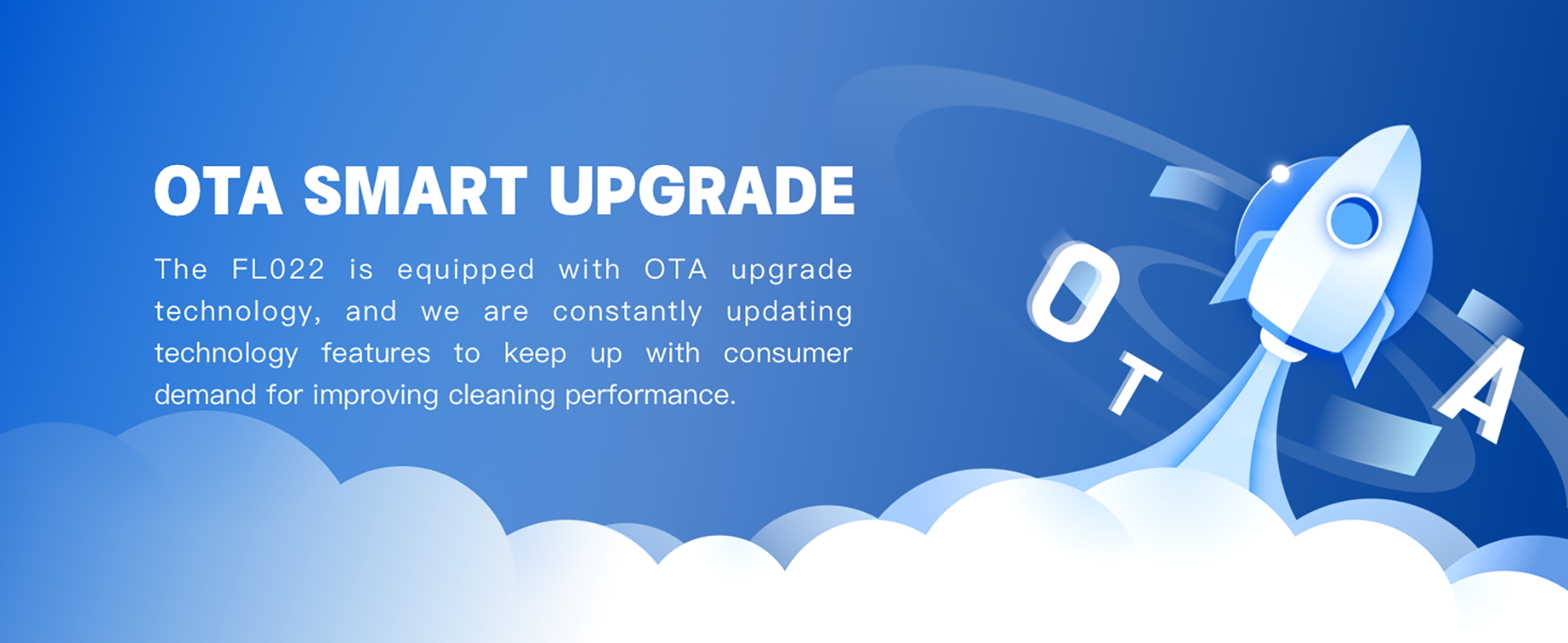 Packing List
1 x FL022 Robotic Vacuum Cleaner, Water Tank with mop cloth, dust bin * 4 x Side brushes * 1 x Additional HEPA filter, main roller brush cleaning tool, dustbin cleaning tool, charging base, AC power adapter

Intelligent Upgrade
Easy climbing height 0.60in threshold and carpet. The intelligent protection sensor protects your furniture from collision, FL022 falls down the stairs.

Voice Control
It is compatible with the Google Assistant and Alexa. You can use voice control assistants to start a clean whenever you want.
frequently asked questions
Does FL022 support 5Ghz Wi-Fi?

No, it only supports 2.4Ghz Wi-Fi.
How to map a large house in one go at the first time?

You can set the suction power at Eco or close the suction power and then start it, the battery will last longer. And after FL022 return to the charging dock, the map will be generated.
Does FL022 mop and sweep at the same time?

No, FL022 has 2 different trays. When you use it for mopping, you need to remove the dust bin and install the water tank.
Does FL022 mop the floor well?

You can enable the Y-Shaped Mopping function in Coredy App, it will mop the floor with"Y" shape.
Are the left side brush and the right side brush the same?

No, the L side brush is for left side, and the R is for right. The side brush will roll up easily if they are installed by mistake.
Can I wash the dust bin?

No, you can use the brush and a dry cloth to clean the dust bin. The water might damage the dust bin.
Is there a way to make FL022 continue cleaning the areas after it go back to recharge?

Yes, please enables the option "continue cleaning at breakpoint" in Coredy App, FL022 will continue the cleaning when it is charged to 80%. But it won't continue the cleaning when it is in Do Not Disturb mode.
How many maps will FL022 save?

FL022 can save up to 5 maps, and you can select different maps in Coredy App—More—Room Manage when you set it at different place.
How to set up the No-go zone/virtual walls?

After the map is generated, you can set up the no go zone/virtual wall in "Forbiden Eidt" in Coredy App.
Can I set different suction power for different rooms?

Yes, after the map is generated, you can set the different suction power/water level/cleaning times in Coredy App—Map Edit—Customize mode.
How to program rooms?

After the map is generated, you can merge/spilt/name different rooms in Coredy App—Map Edit.
Can I monitor the real time cleaning path in Coredy App?

Yes, but only after you connect your FL022 to Coredy App, and the FL022 connects to network when it vacuums/mops.